We went for a hike on Sunday at Mission Peak. It's only 15 minutes from my house but this was the first time I've been there. And HOLY COW, it's crowded! I drove to the main parking lot and it was full. I drove around looking for street parking and nada. I would have had to park over a mile from the trailhead to enter there. So instead I drove to Ohlone College to an alternate trailhead.
Don't let this photo fool you, most of the hike was under open skies and grassy hillsides. On the lee side of the hill we did get some shade though.
We soon came back out into the grass.
We climbed and climbed and climbed.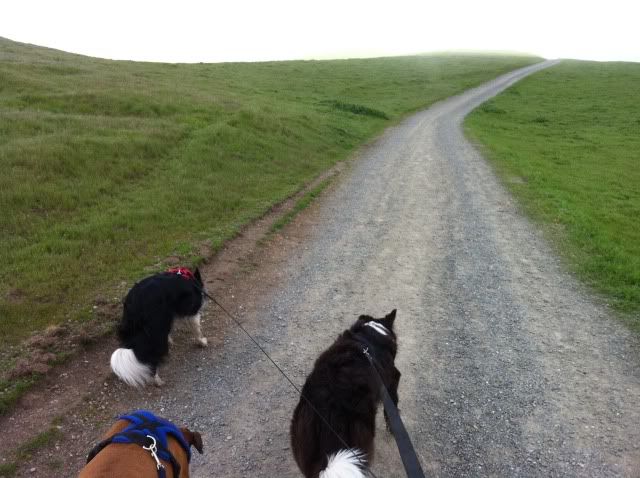 And holy crap, we climbed.
At one point of the climb we ran into a herd of cows. Thankfully I had the dogs on leash! Both Apollo and Rampage wanted to go say hi to them pretty bad. The cows in the bay area are well known for charging at unsuspecting hikers and their dogs. Luckily these bovines just eyed us warily.
We climbed into the clouds! If you look way far down you can see the path that we came from.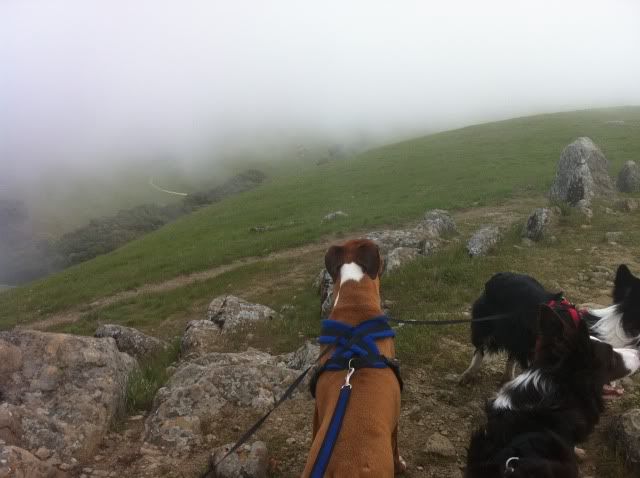 I shouldn't have been surprised at the number of people I saw on the trail and at the summit based on the number of cars in the main parking lot, but I was. There were TONS of people. And apparently the dogs and I are power hikers because we passed at least 50 people on our way up. But one thing that made me feel warm inside each time we passed someone was that seeing the dogs made them smile. I happily interrupted our power hiking multiple times to let them pet Apollo. People also showed interest in the border collies, but Icon was uninterested and Rampage was wary. But I was very impressed with how Rampage handled himself around all the strange people!
We made it to the summit and stopped for a water break before heading back down. Apollo really struggled going downhill :(. He seemed in pain walking, going slower and slower... and slower...... but normal when he trotted downhill. I eventually just let him off-leash so he could make his way down at his own pace. That worked really well for us.
We're starting to get close! If you ignore the overexposure you can see the SF bay and civilization between the two hills.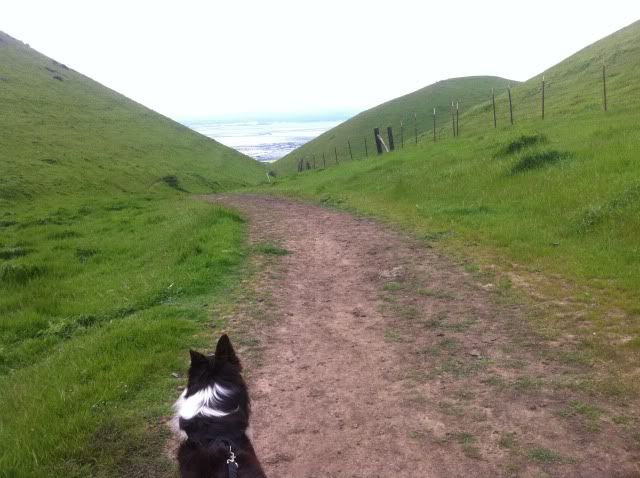 The home stretch! Our car is in the parking lot right in front of the pool.
Mission Peak is a really fun hike. It was 6.8 miles and 2064ft elevation gain. I recommend it for the adventurous. I'm not sure if I'll take Apollo next time though :(.