I can't believe Rampage is 12 weeks old already! And looking back at photos from when he first came home (over a month ago!!!) he has grown so much! So to celebrate we have some photos from our day (I have no clue what happened to week 10 and 11 of his life).
HIHI! I'm Rampage! Last time I did this at
9 weeks old
, my mom worked from home so we had an extra special day. But she explained to me that she can't work from home ALL THE TIME, so it was just another day for me. But all days are fun!
We started out with our morning trip to the P-U-P-P-Y P-A-R-K (you have to spell it out at this house or THE PACK gets really excited and steps on me). My mom said that she wouldn't take me there until I was 4 months old, but I made sure THAT didn't happen. I've been going every day since I was about 10 weeks. It's not really a dog park, just a school that's been converted to a daycare/church with a 10 acre yard. Pretty sweet for us doggies. There are about 10 regulars that come to this park, but I've only met 2 of them and they're pretty fun! One is a beagle and one a bc/something mix (they're both really fat, but my mom told me that's not polite to say). I hear from THE PACK that they used to walk to the park all the time with mom, but we've only ever driven there since I started going. It seems REALLY far to me!
It's hard for mom to get photos of me at the park because I usually just hang off of a tug toy while she throws the ball for the other dogs. But she gave it a try!
Here I am chasing the pig-dog (PD). He's been pretty fun to play with lately. I think he gave up the hope that I'll be leaving anytime soon and gave into my charm. Did you know that PD skin stretches? I swear I can grab onto his neck in the living room and run to the kitchen with his skin in my mouth and PD doesn't budge an inch! Amazing! Maybe he's a super hero??!!??
Nah.............
Then I stole Icon's ball. He hasn't given into my charm yet... but it's only a matter of time...
Then me and my mom headed to work, where I get to sit in a crate in her car in the parking garage. BORING. All the security people know I'm there and ask my mom how I'm doing because I bark. A LOT. Occasionally, when I'm REALLY being cranky, my mom can hear me bark when I'm on the 4th floor of the garage and she's in her 11th floor office. Now THAT'S an impressive voice! But I've gotten a lot better recently. I usually stop barking by the time my mom gets from the car to her office.
So today I sat in the garage until my tummy started rumbling. Then my mom came out to take me for a walk and feed me! We walked around campus and practiced our 'sit' and 'down' and 'attention' and fun stuff like that. I impressed some young ladies with my suave 'wave' and then they squealed and said how cute and soft I am and gave me hugs (I get this a lot, and sometimes the guys squeal too).
Then back up into the crate. BORING.
But just before I decided to start barking again, my mom came back and we went for a trip to Oyster Point on the SF bay.
I stopped to smell the roses a bit. Until my mom told me they weren't roses. Ooops. Well I'm 12 weeks old! How was I supposed to know??
But anyway, smelling dog pee is SO much more interesting.
Then I saw a pond and asked my mom if I could go play in it? PLEEEEEZE?
She said yes, but I wasn't sure about the whole 'water' thing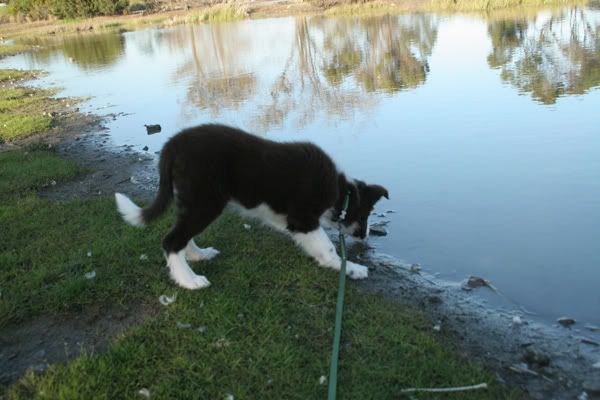 But then suddenly, something caught my eye!
My mom called them 'ducks'. I thought they should be called 'lunch'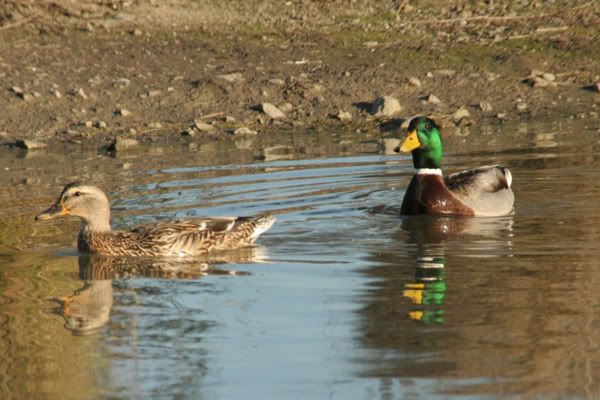 I tried stalking up on them a bit.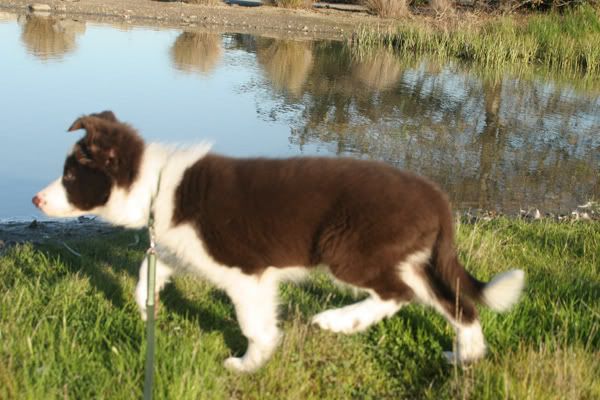 But then I kept hear a clicking noise. MOM! You're going to make them know I'm here!!!
So then I just stared at them for a bit (still heard the clicking though)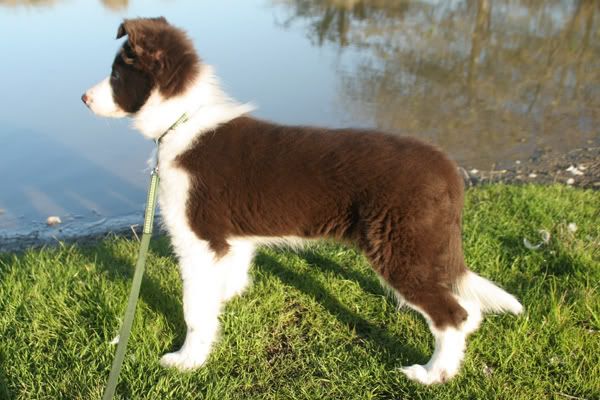 And that was my day! Now I'm at home bugging the PD and chewing on a pork neck. My mom got some video of me tossing a toy around but it didn't really turn out because it's so dark. Oh well.
Here's to looking forward to more good days in the future!