Chapter 2 - The Red Dog Crew
As I trotted towards my quarry I tried to remember all I knew about them.
The common belief on the street was that the ring leader of the Red Dog Crew was a sly and crafty Boxer name Polly. Don't be fooled by his name though. A Malinois with a black belt in Schutzhund once made fun of him for having a "girly" name. His body was found in the meat processing division at Purina dog food. At least PARTS of the Mal's body were found.
Polly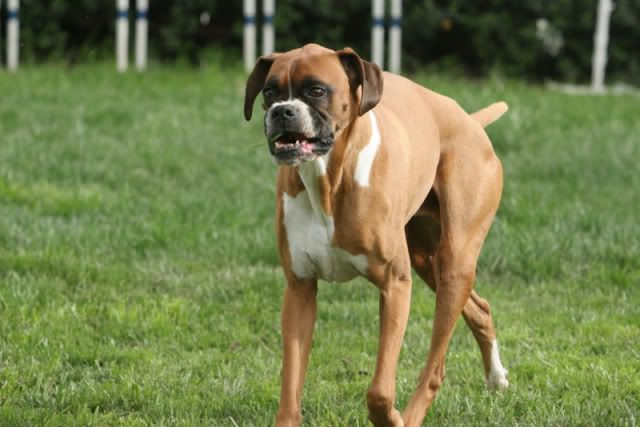 It's believed that second in command in the Red Dog Crew was a Red Dog who's name was as masculine as Polly's was feminine.
Rampage.
And he lived up to the name too. What Rampage wanted Rampage got and he left a mass grave of destuffed, desqueaked plushy toys in his wake. His trademark move was to hump his opponent after each victory. Female, male, animate, inanimate, he didn't care. He humped them all.
So I knew WHO they were, I just need to figure out WHERE they were. I decided to start my search in the seediest area of my Beat. The club known as the Fire Hydrant.
I opened the door and walked from the clean sunlight into the dim and smokey bar. The door shut behind me and I was blinded for a moment. I was a bit disoriented as 80's Rap Music surrounded me along with the smell of smoke. It tried not to step to the beat of Salt'n'Peppa's song Push It as I walked towards the bartender.
As I approached, a big black and tan beast at least 3 times my size stepped in front of me.
Enter Tango.
I don't think you will be surprised to hear that I stopped short. Aside from his size I could tell by the gleam in his eye - a gleam so similar to the one in my old partner, Foster's - Tango was a Squeaky Ball addict.
When I saw him, I knew I had found at least one link to the puzzle of the missing Chocolate Lab.
To be continued...
Chapter 3 - The Fire Hydrant