On Thursday Tammy, the dogs and I went for the 'big hike' that we have been working towards. It was 29.1 miles with about 7800ft elevation gain. Most people do the hike in 2 or 3 days, but not us! We were determined to do it in one! Some might call us pioneering and adventurous, but most would probably call us stupid :)
A link to a larger map
And the elevation profile.
We met at Mission Peak Parking lot (where we will end the hike) at 6am. It was still dark out and the parking lot was disturbingly busy considering it was 6am and still dark. First things first, Tammy got her surprise christmas present from her husband, expertly delivered by Santa Channan! A Garmin Forerunner so we can keep track of our distance. I have one as well but we knew the batteries last up to 8 hours max so one wouldn't last the entire hike.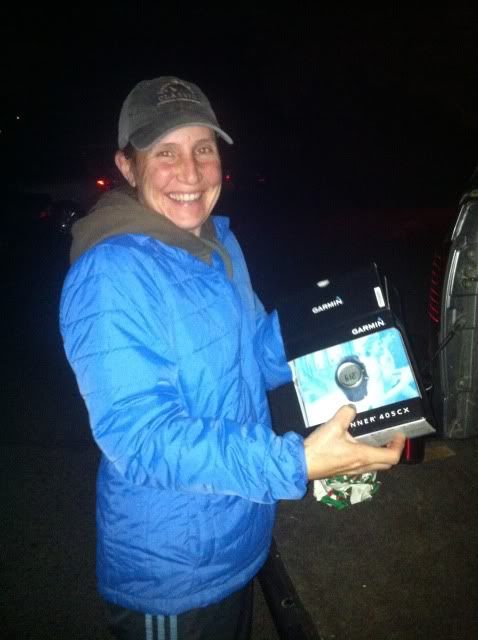 Debbie also met us there because - awesome friend that she is - she offered to drive us to the start of the hike at Del Valle regional park. Debbie has a big truck, but with 6 dogs and 3 people it was still crowded!
Gearing up. Thanks Debbie!
It was about a mile uphill before we came to the Ohlone sign-in panel. They make us write our information so if we are eaten by mountain lions they can come and find our bones.
Then we continued up, up and away! We started somewhere down where that fog is. There wasn't fog when we started though, it rolled in after. Mt Diablo rises above.
Dogs are allowed off-leash in the Ohlone Wilderness. Icon was the first to be set free.
A blessed flat portion amidst the 10 miles of almost pure climb.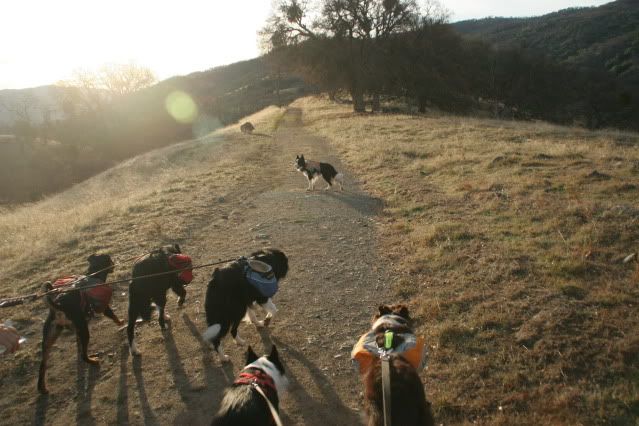 And then we let them all free (except Bridget)! And we didn't see them again until we got back to our cars 27 miles later.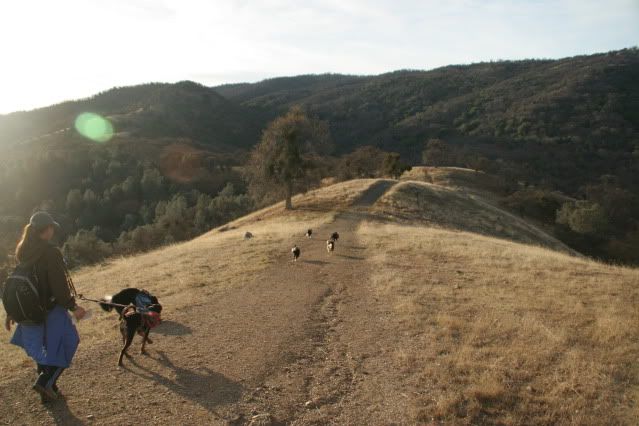 Just kidding... They stopped and waited for us
But, oh, they had so much fun off-leash! Most places we hike in the Bay Area only allow dogs on-leash.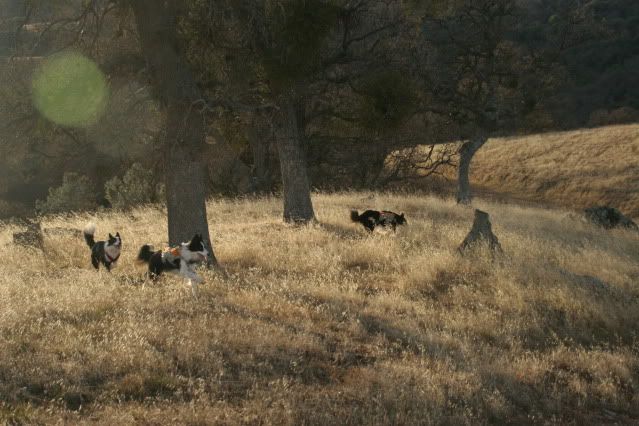 Tricki had the most miles during our hike. We figured Tammy and I did 29 miles, Derby and Icon probably did 35, Rampage racked up 40 miles and Tricki probably did 45! It's all thanks to his magical tongue.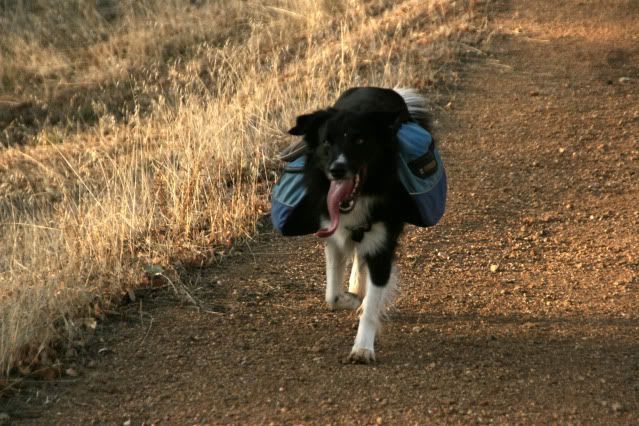 Icon is so cute!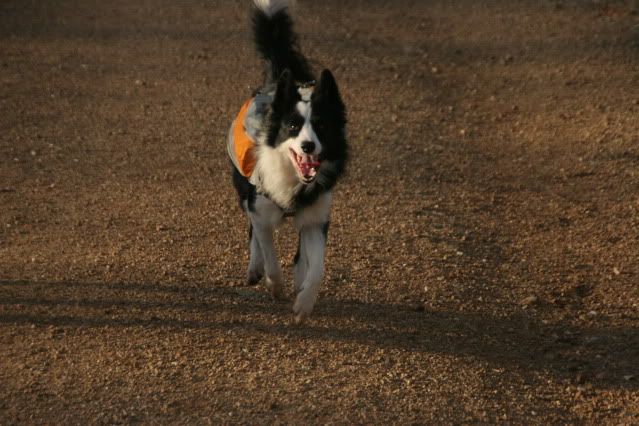 When we started heading down into Williams Gulch (only about 3 miles into our hike, I was already tired!) the dogs thought we were going way too slow and scouted ahead. Little did they know the BIG BURN was coming.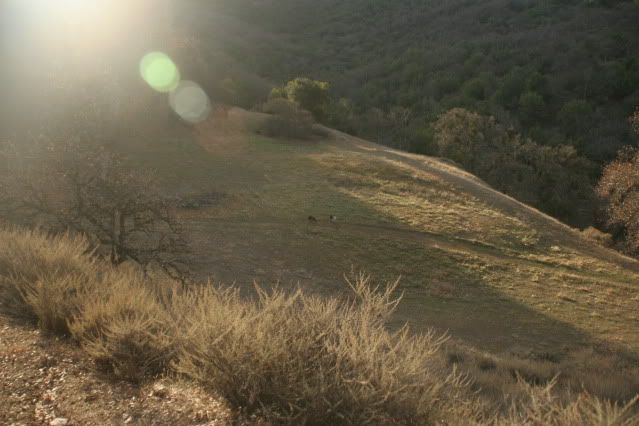 Walking down into the gulch was very pretty. It was cool and shaded (and downhill) and we saw the only flowing water during our entire trip here. It would have been a larger stream if we had some rain....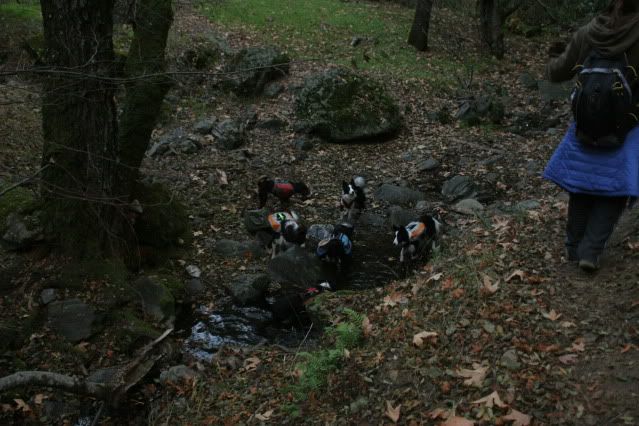 But things that go down, must go up! They don't call this section "Big Burn" for nothing. Ouch.
Icon say, "Big Burn? It's easy!"
Handsome Rampage!
On a mission...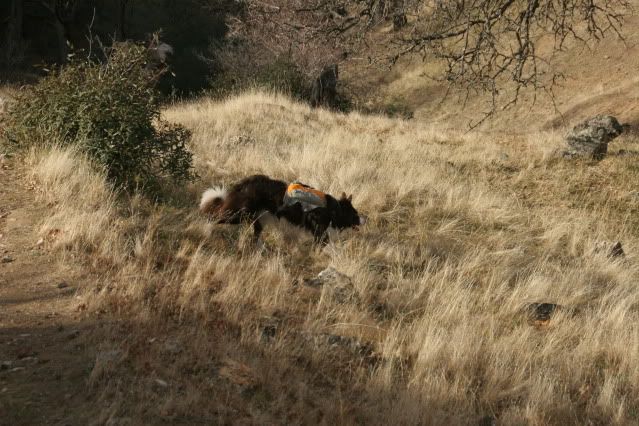 There was mistletoe everywhere. Believe it or not, I had no clue what mistletoe was until our Joseph D Grant hike the weekend before when Tammy pointed it out to me. After that I saw it everywhere.
Cassidy!
Oh Tricki, what a big tongue you have.
We ran into some ice near the top of our climb on the hike! Cassidy wasn't impressed.
Rampage thought it was pretty fun though.
We also passed by a whole bunch of disgusting stagnant ponds. Rampage got in trouble for going into this one! Icon is worried because Rampage got in trouble. Poor Icon.
More ice! And Tricki found a stick.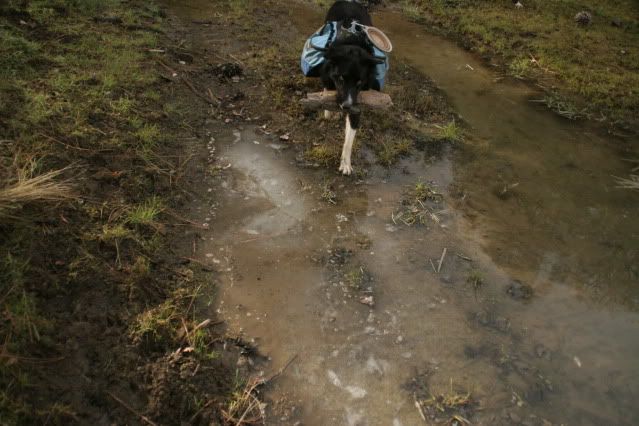 Great, more climbing.
Oh, that's kind of pretty.
The squirrel hunting has begun.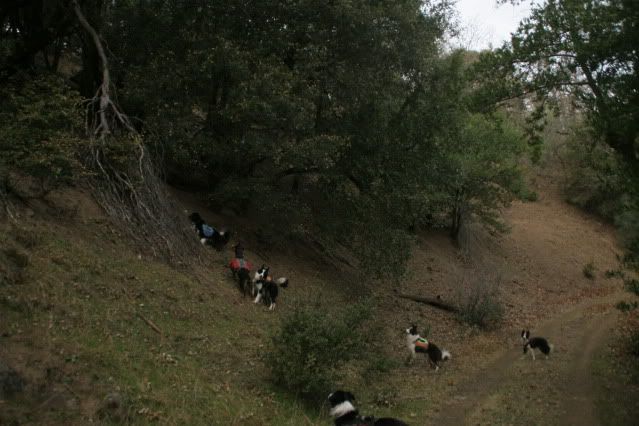 Yay, potty area for people! I think this was Doe Canyon Horse camp, about 10 miles into our hike. We thought the worst of the climbing was over at this point until we got to Mission Peak. Somehow it wasn't though!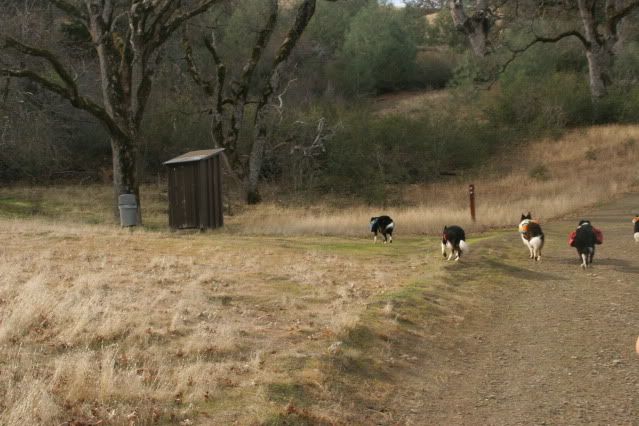 The dogs MAY have been a bit thirsty (don't worry, we had already stopped to water them a few times before this).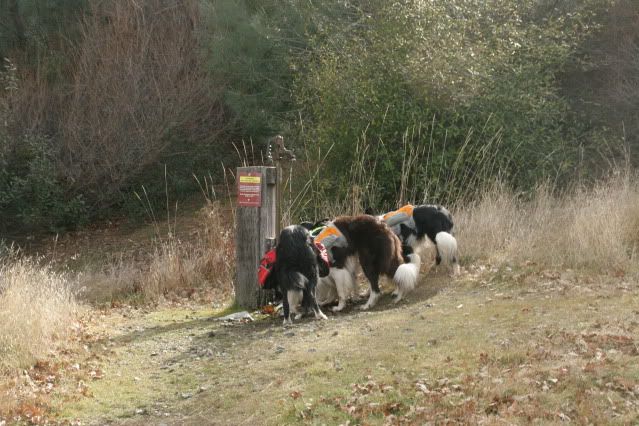 Ah, refreshed!
Icon says treated water is for sissies.
Bridget was a bit tired!
The dogs try to decide, back to Del Valle or on to Sunol?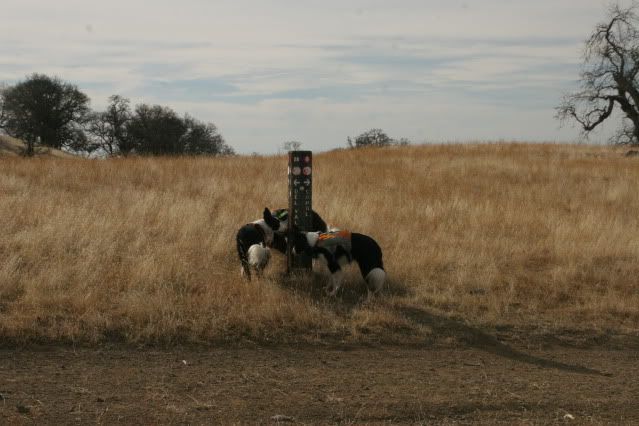 Sunol it is!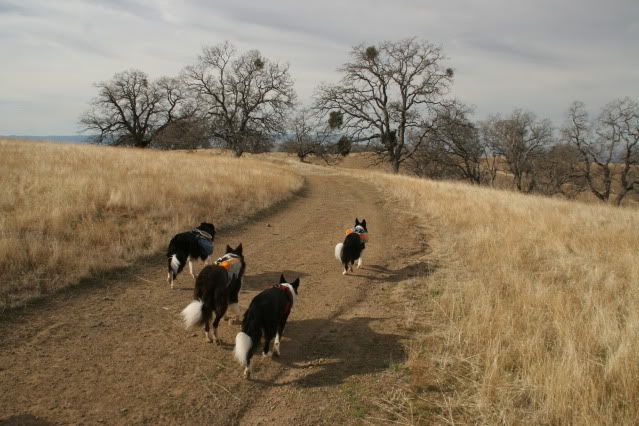 Squirrel!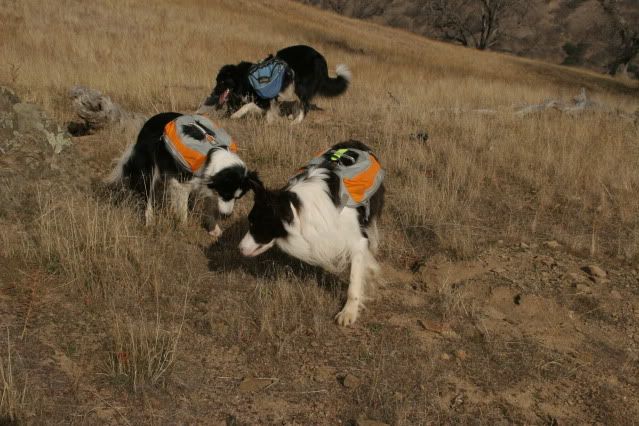 Cassidy stops for a little scratch.
Oh dear, we have to climb that?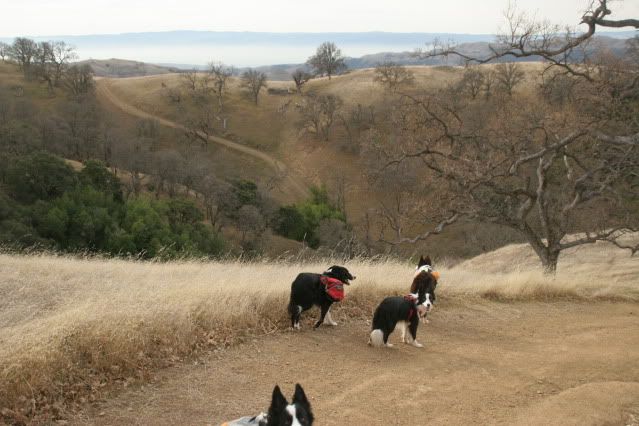 Just when we thought it would be all downhill
Our first view of Mission Peak! (above and slightly to the right of Tammy)
We're about to pass into SF Water District land, which is desolate aside from cow poop and squirrels.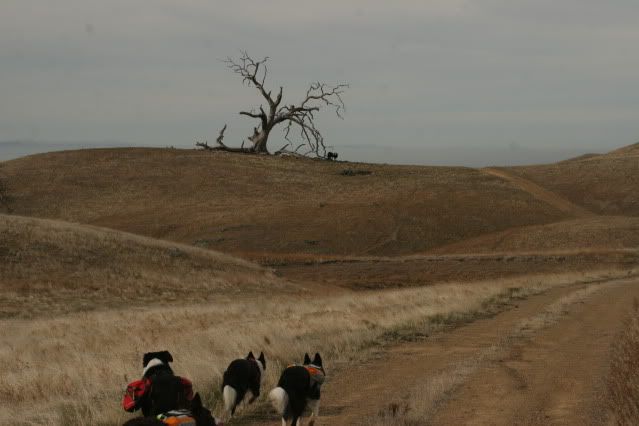 But the dogs got some really good squirrel action
Mission Peak, our destination!
Squirrel!
Squirrel! (Rampage, COME BACK!)
The SF Water District section was also famous for steep climbs that make you feel like you are going to fall off the end of the world, followed by steep descents. The descents must have been greater since our overall altitude went from 4000ft to 1000ft but you could have fooled my legs.
Tricki and Rampage off hunting again.
Cassidy takes a moment to refresh herself.
Yeah, lunch time! We're at the boundary the SF Water district and Sunol Regional Wilderness, around 16 miles. Up until this point we had only seen one person. She asked to use my cell phone to call her husband and let him know she was OK and he could still pick her up the following day. Her cell phone battery had died. Luckily I had a signal when we met.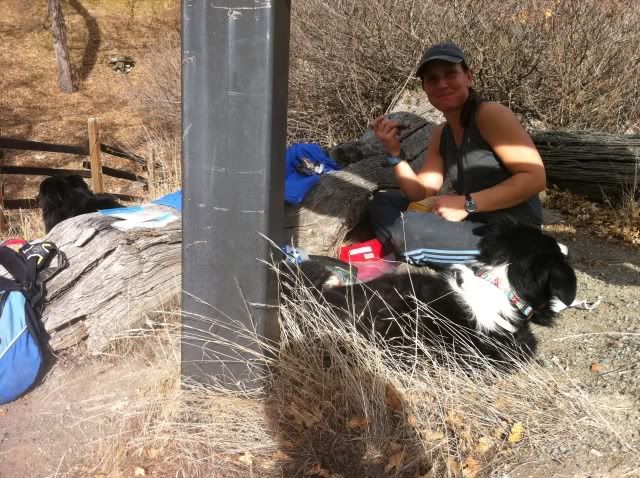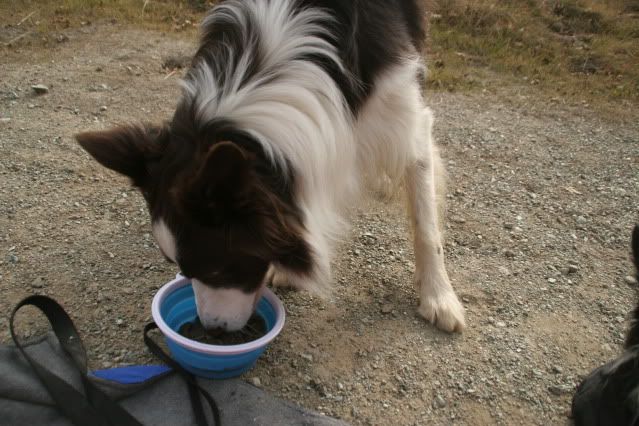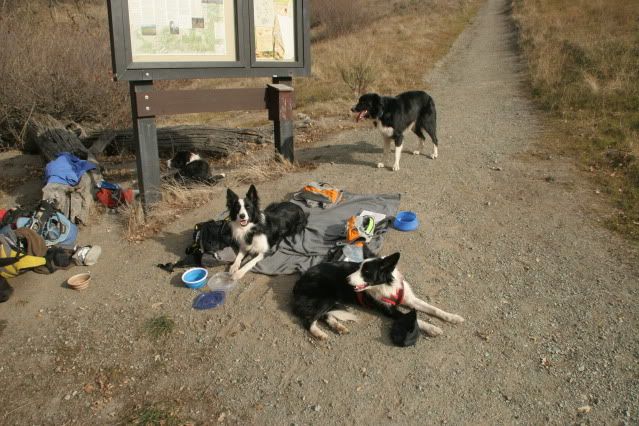 Rampage takes a dust bath.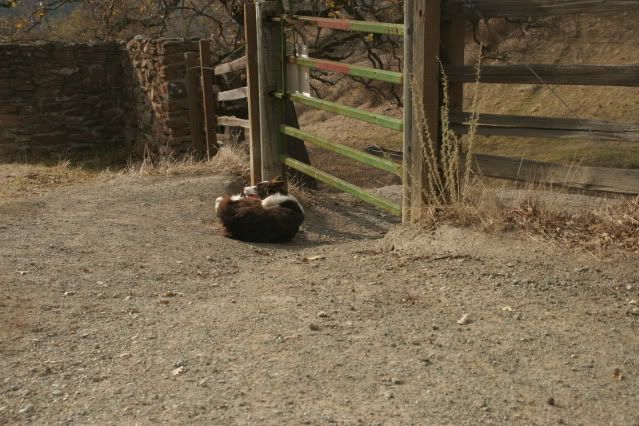 And then a nap
Cassidy thinks napping is a good idea too.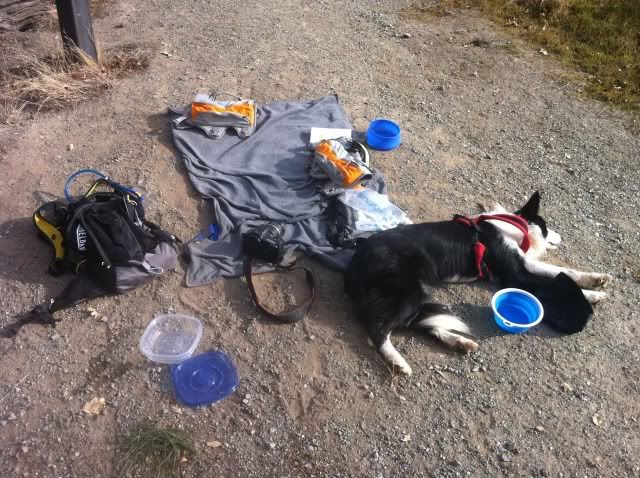 And then we were back on the trail! The McCorkle trail, to be exact.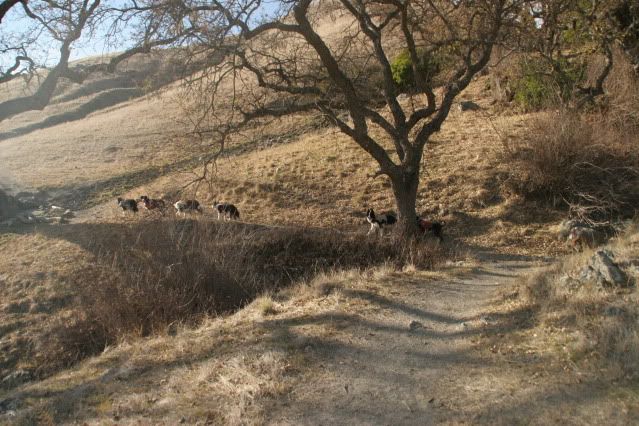 We started running into cows more frequently. Certain dogs (who shall not be named) got to go on leash for these meetings. The cow above and to the left of Icon was number 388. She wasn't nice. Yeah, we remember you 388, you bitch (but she wasn't as bad as one was saw on the way down Mission Peak. It was too dark to get HER number).
These guys were pretty nice.
And then we were at the Sunol Visitor center! 19 miles and 390ft.
Yay, real toilets! Oh, wait... they were still pit toilets...
But REAL water to drink. It was even filtered (Yes, Icon, I'm a sissy)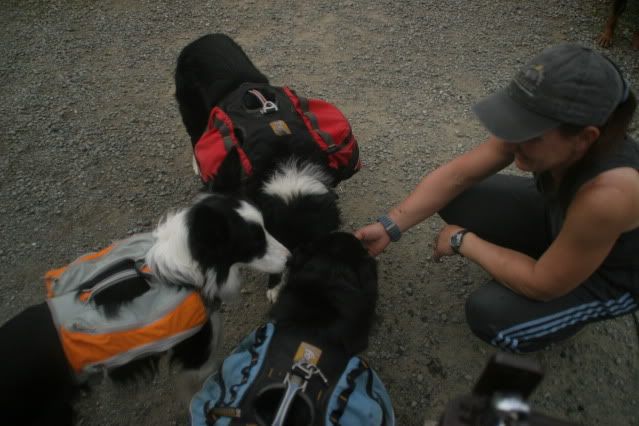 But at the back of my mind the whole time we were there was, "STILL 10 miles to go and STILL about 1700ft to climb. Noooooooooo!"
However, despite joking about stealing horses from Sunol we had no choice but to buck up and carry on.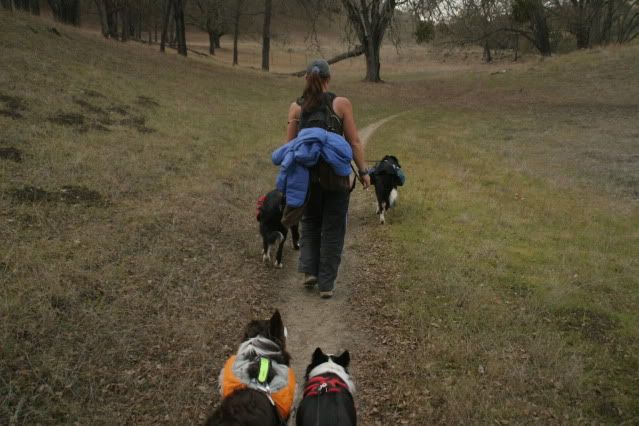 It started off pretty fricken awful, and to add insult to sore, aching legs, we got passed by a car who's passenger waved happily at us (car can be seen upper right just going behind the hill).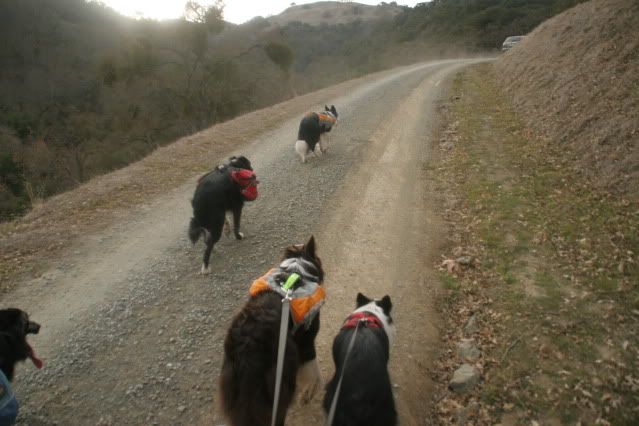 But then after about a mile the horrible uphill was replaced by a gentle, rising slope. It was actually quite pleasant!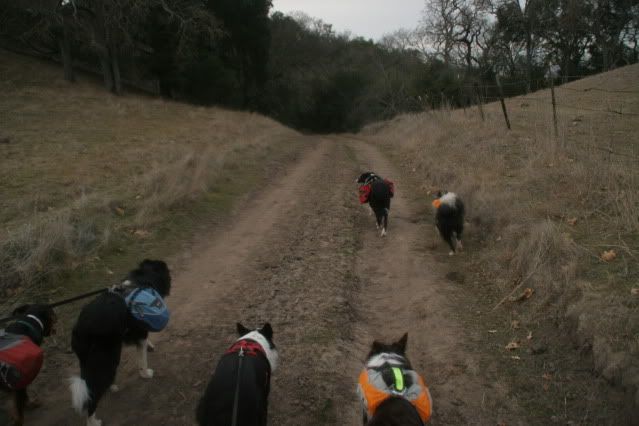 Neither Tammy or I wanted to say anything about how pleasant the climb was because we both figured we'd have some more ugly climbs ahead of us. But they never came! And then we rounded a corner to see Mission Peak! You can't see it in the photo but we could see the silhouettes of people climbing the ridge to the peak. I recognized the grove of trees below the peak from when I had hiked to the sign in panel on Christmas day. The end was in sight!
The sign-in panel! (or out in our case)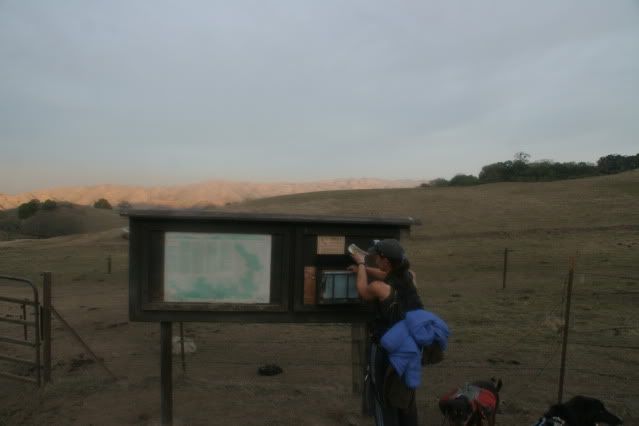 Where we came from
Where we're going. I knew from my christmas hike that from the Ohlone sign-in panel there were 4 climbs left until we started down the other side of Mission Peak.
Icon says, "Are we done hiking? Is it time to play?"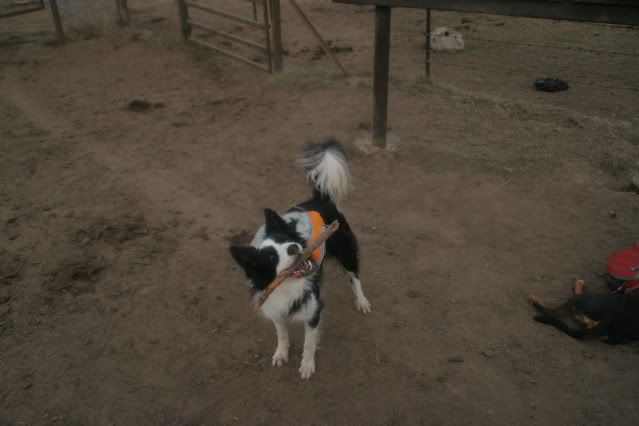 Last water break.
The fog rolls in as the sun sets
Passing to the west side of Mission Peak just as the sun goes to bed. It's definitely all downhill from here! I knew we'd be doing part of this hike in the dark, but I was pleasantly surprised to get this far during the day!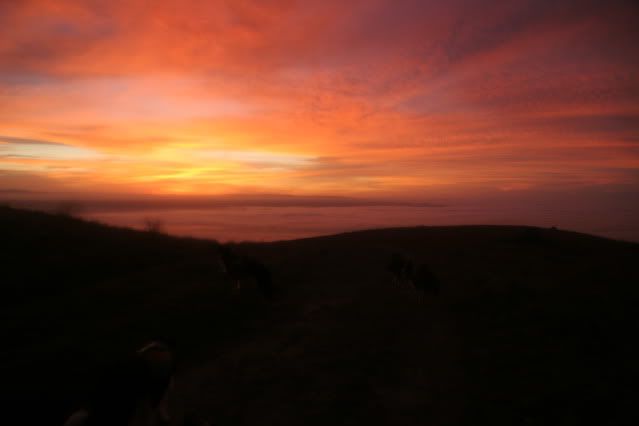 And then it was too dark for photos! Hiking down Mission Peak in the dark is not an easy task. It isn't very far (about 3 miles) but VERY steep. We had our doggy lights and headlamps so we were OK but I was surprised to see the number of people going UP the hill in the dark! They must be nuts. Unlike Tammy and me. :)
It took us 10.5 hours to go 29 miles. Not bad! Next on our list is to do an overnight backpacking trip. I can't wait!