I came up with a bunch of sequences for the week.  It's fun to come up with courses.  If judging just involved developing courses, I would love to be a judge.  I just couldn't handle standing around all weekend watching agility runs.
This morning I did one of the sequences.  I started some more, but I fell while Icon was on the dogwalk because the grass was wet and my shoes had no traction.  I decided to stop there  before I killed myself.   Between my back/leg problems and falling in agility I need to be more careful!  I will do some more of the sequences tonight and wear cleats!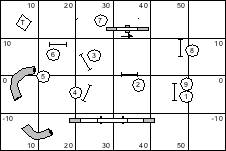 So the purpose of this sequence was to see if we could go from a straight line (1-3) and get a tight turn from 3-4 and and nice wrap from 4-5.  And he did an awesome job at it.  He turned so nicely for me, I was a bit shocked.  Although admittedly, my backyard isn't THAT big so we couldn't get so much momentum going, but I was still pleased.  You can see in the video that he turned very nicely in the air over the jumps.   I rewarded after his first try because it was so nice.  The 2nd time was just as nice.

My cat, Litter, was standing at the tunnel exit when Icon came out. That's him running towards the house!


Oh, and I'm wearing my PJs so excuse my outfit